General Description
One useful feature of the Siretta Industrial Router family is that they can be remotely configured to perform basic functions. This includes connecting and disconnecting from the network and in addition to this they can be remotely rebooted directly via SMS. This has the advantage of being able to remotely control the router to resolve many of the connectivity issues related to stale TCP connections or loss of PDP context. The router will normally manage this procedure automatically but there addition commands to manually override the process.
Router Configuration
1) Open the Management portal interface of the router and select 'Basic Network' -> 'Cellular'. Enter a value to authenticate the SMS command to the router. (This prevents potential false triggering of the command0. Enter the validation text in to the SMS password field, then click on the 'Save' button. For this example, we have entered 123456.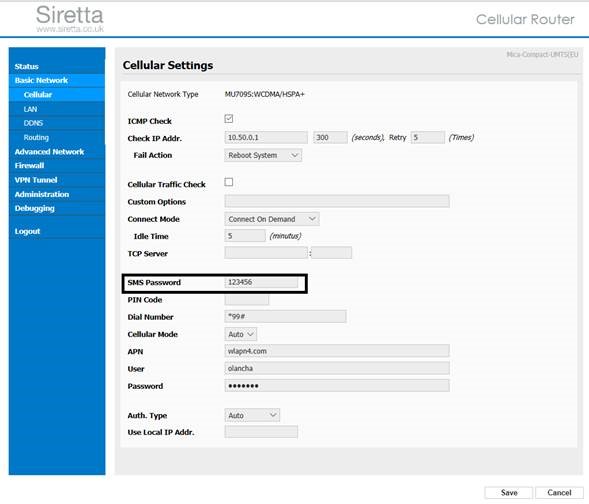 2) You can now send a command SMS message from your mobile phone or SMS service gateway server to the registered phone number of the SIM installed in the Siretta Industrial Router using the following format.
| | | | |
| --- | --- | --- | --- |
| Action | Cellular Disconnect | Cellular Disconnect | Router Reboot |
| SMS Message Content | 123456*down | 123456*up | 123456*reboot |
3) Once you have sent your command SMS to the router you should observe that the router will perform the requested action in the following minutes.
NOTE: You will not receive a notification SMS from the router to confirm your requested action.


Download as PDF