General Description
linkCONNECT is both an automated and managed modem solution that provides a wireless serial link across a mobile data network.
Any data that is present on the serial output of a non-wireless equipment is sent to a server, using a Siretta Router with linkCONNECT (Client Mode). Conversely any data that is sent to a Router with linkCONNECT by a server is made present on the Router's serial link and is transferred to the non-wireless equipment (Server Mode). linkCONNECT is available on the serial link of most of Siretta Routers.
This application note is designed to show how to use a Siretta Router in linkCONNECT Client and Server modes.
Requirements
Router Quick Start Guide
Fixed IP SIM card for Server Mode with Public IP address.
Serial Cable
Terminal Emulator
Server IP address and port number for Client Mode. 
Server Mode Setting
1) Follow Router Quick Start Guide for initial router set up.
2) Connect  serial cable  from the router green connector ( GND, RXD/A and TXD/B)  to the corresponding pins on PC  RS232.
3)Access router web page  by following Step 1 above  then you will be presented  with the screenshot below showing router status as " Connected".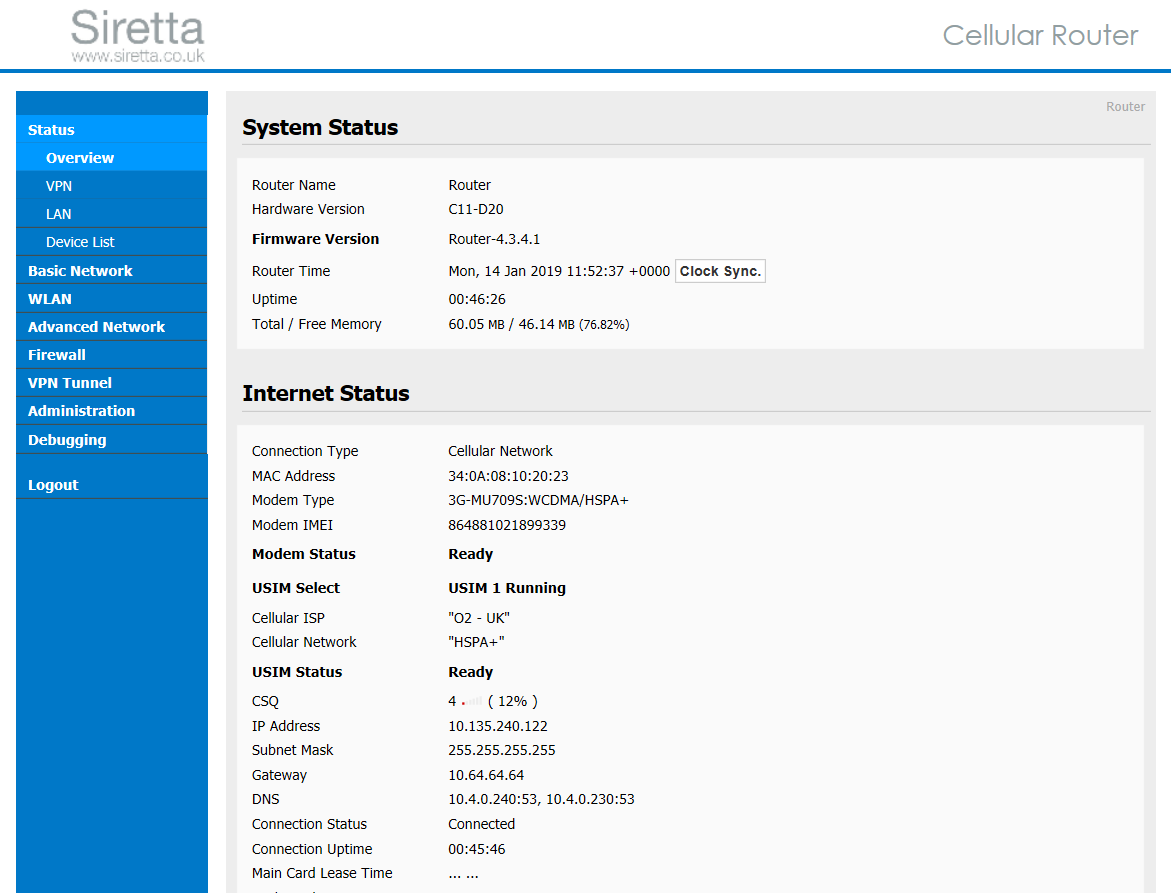 4) Navigate to the Advanced Network tab  then select linkCONNECT option. On IPoC Mode select " Serial" , in Serial to TCP/IPMode select " Server " and mirror settings below with your equirement (i.e Port Type, Baud Rate, Parity Bit, Data Bit, Stop Bit…………).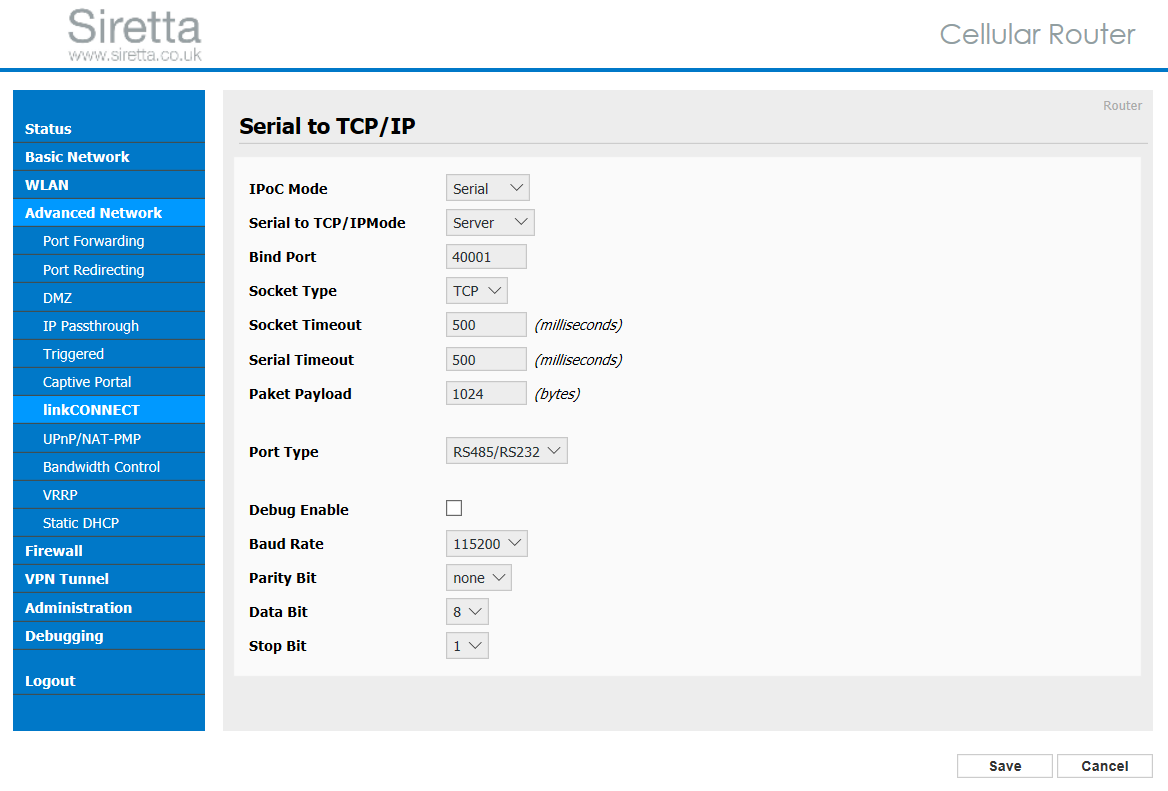 5) Open  Tera Term Window ( or terminal emulator of your choice i.e PUTTY or Hyper Terminal ) , select TCP/IP Option  then type the public IP address of the SIM card inside  the router and port number 40001, with "Other" option selected  and  "IPv4"  as seen on the screen shot below. Don't forget to click on Save.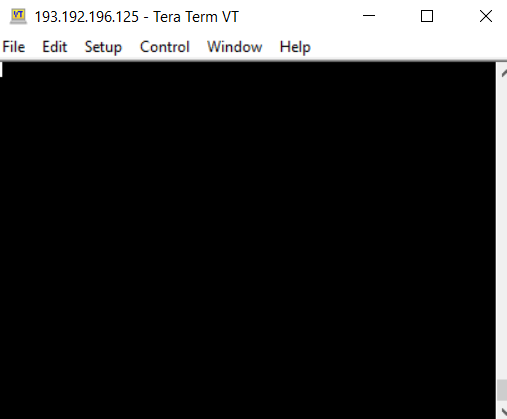 Once you have successfully opened the window using public IP address you will be presented with the window below showing IP address of "193.192.196.125" which is public IP address of the SIM card otherwise contact your SIM provider.
6) Open  Tera Term Window ( or terminal emulator of your choice i.e PUTTY or Hyper Terminal ) , select Serial  Option then choose COM6 ( where the cable from a router green connector is connected to a PC RS232 port)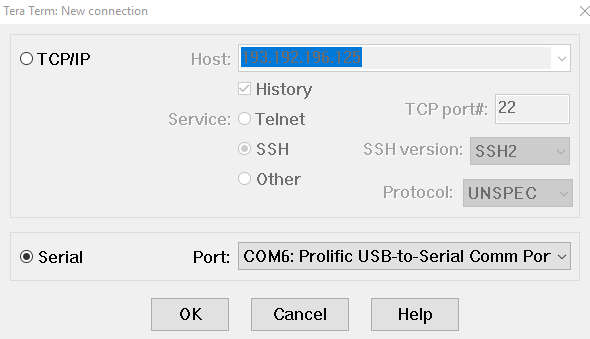 Once you have opened second tera term window with serial port, set com port with the parameters below (Baud Rate 115200, Data 8-bit, Parity none, Stop 1 bit and flow control none).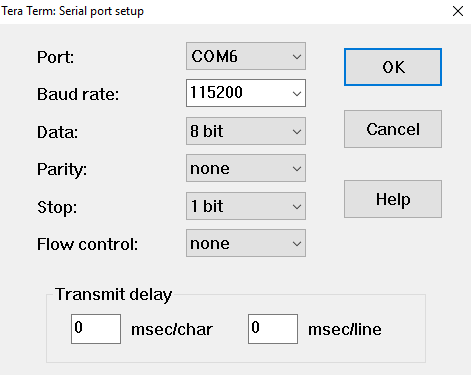 7) Now setting is complete. You can now send data from the remote server to the Router's serial port and Vise versa.


Client Mode Setting
Client Mode  setting requires the user  to have  a Server IP address and port number.
5) Repeat step 1 to 4 above then select Serial to TCP/IP mode " Client" then enter Server IP and port number. Match  the parameters setting as below,  remember to  save  the setting  by clicking "Save" tab below.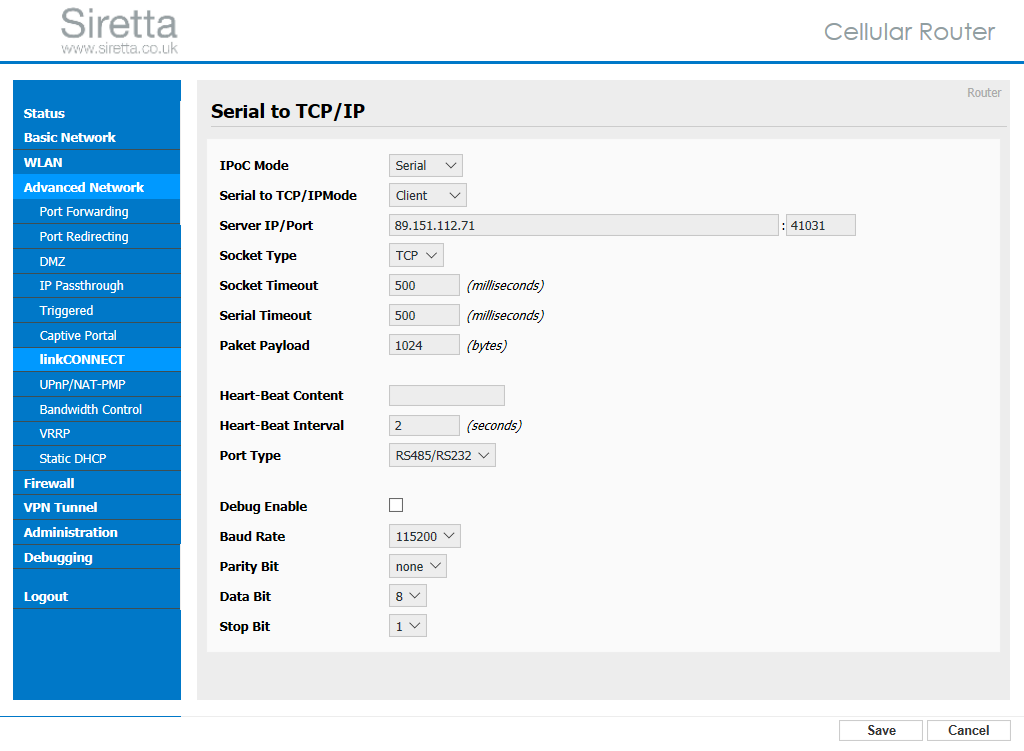 6) Repeat step 6 above.
You have now successfully  set router linkCONNECT  to client mode and connected to the server. As seen below any data from the  router serial port will be sent to the server.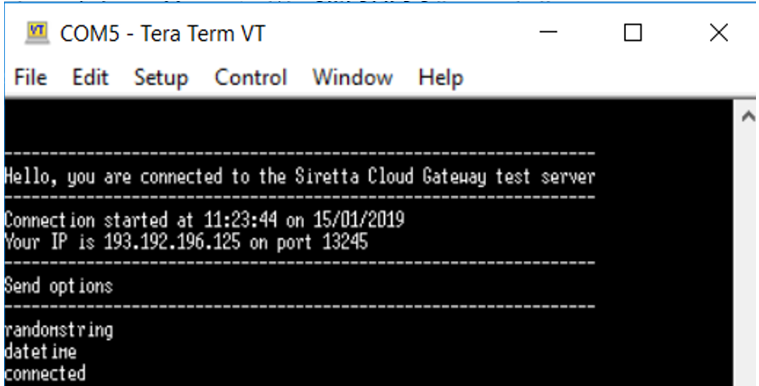 Download as PDF