The Siretta Modem DIN Rail Adapter has been designed to fit perfectly to the SL500 family of intelligent industrial IoT modem solutions. The DIN rail adapter for the Siretta family of modems provides a mount to attach the SL500 modem directly to an industrial DIN rail (Top hat rail IEC/EN 60715). The SL500 modems are a family of low power industrial cellular communication devices which connect remote equipment using RS232 serial to a central server.
The SL500 modems are ready for use with the SirettaLINK management portal, making savings in development and time to market. The SirettaLINK solution means deployment and remote management is simple and gets over the need to spend time developing applications with AT commands on your host platform.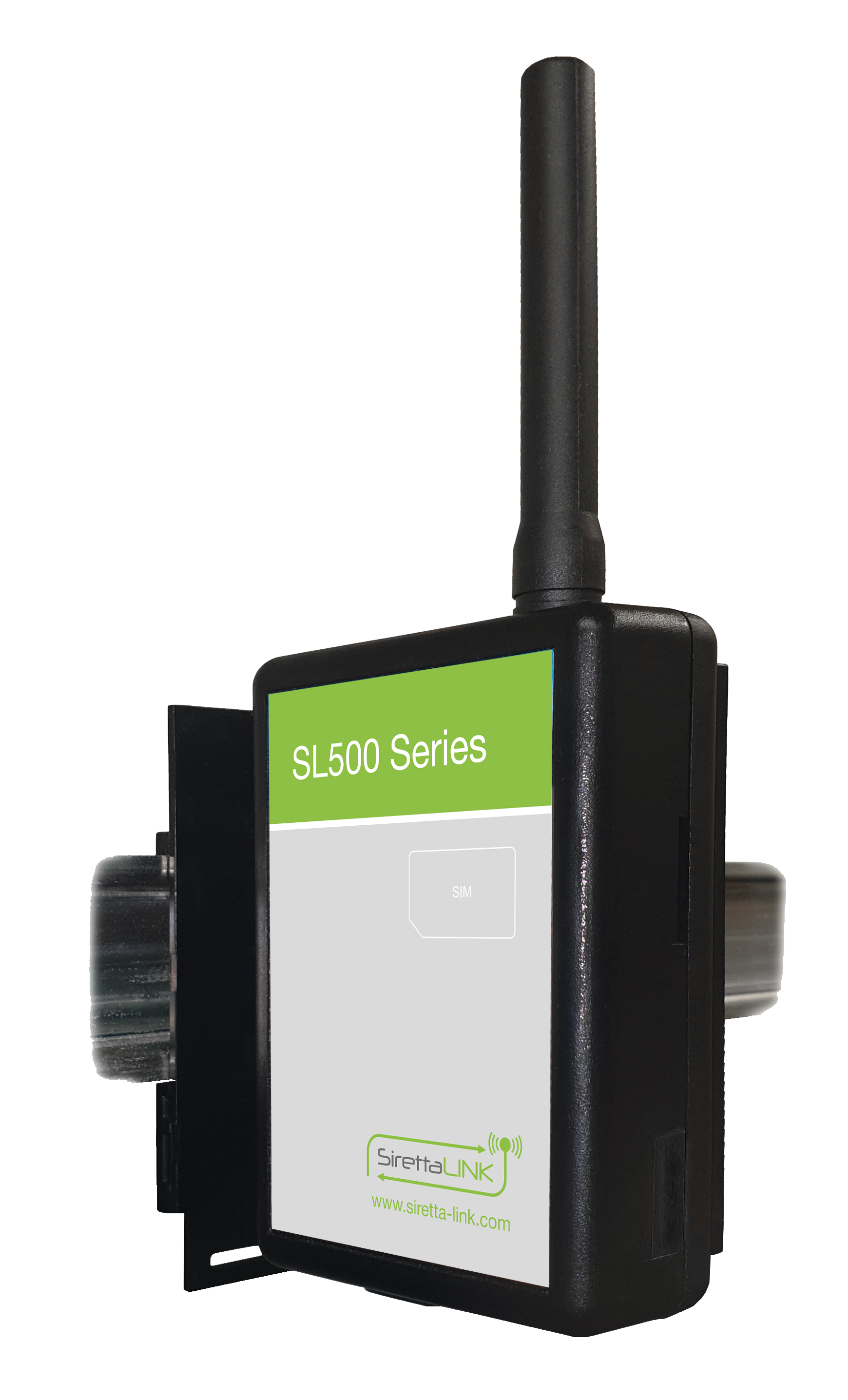 The SL500-LTE1 (EU) modem uses an embedded STM32F405 ARM® Cortex® M4 core processor to implement advanced functionality that is used to create a data connection over the LTE cellular network to link a remote application with a server. This runs an application that connects the SL500-LTE1 (EU) modem to the SirettaLINK Management Portal using an encrypted link, where it downloads the configuration profile for connecting to the customers specified resource and posts operational data.
The SL500 family of intelligent modems connect equipment to the LTE Cat 1 / LTE Cat M / LTE Cat NB IoT networks and provide backwards compatibility to the existing 3G / UMTS and 2G / GSM cellular networks. The modems operate in a low power state which makes them ideal for use in industrial IoT applications today and for long term future developments.
The SL500 solution moves away from the traditional approach of setup and management using AT commands which require a high skill level to implement correctly. Instead, setup and management are all achieved using the modern cloud-based SirettaLINK management portal which makes deployment and remote management a simple task.
The Siretta DIN Rail accessory allows access to the SL500 standard interfaces in addition to the model and serial number label on the back of the modem. In addition to the mounting screws there is also a cable tie cutout to enable cables to be secured to the DIN rail frame to ensure that the DIN rail remains firmly attached to the modem and the cables remain secured to the modem interfaces.