The Siretta Modem DIN Rail Adapter has been designed to fit perfectly to the ZETA family of industrial IoT modem solutions. The DIN rail adapter for the ZETA family of modems provides a  mount to attach the ZETA modem directly to an industrial DIN rail (Top hat rail IEC/EN 60715). The ZETA modems are a family of low power industrial cellular communication devices with general purpose interfaces. 
The ZETA family of modems connect equipment to the LTE Cat 4 / LTE Cat 1 / LTE Cat M / LTE Cat NBIoT networks and provide backwards compatibility to the existing 3G / UMTS and 2G / GSM cellular networks. The modems operate in a low power state which makes them ideal for use in industrial IoT applications today and for long term future developments.
The unique features of the ZETA family of modem devices are available across the entire range and allow convenient connection to the modems interfaces. The family of devices share the same set of compatible interface connectors which allows for accessories to be interchanged as required between devices. The addition of the DIN rail attachment allows the modem to be mounted vertically alongside industrial control equipment inside equipment racks.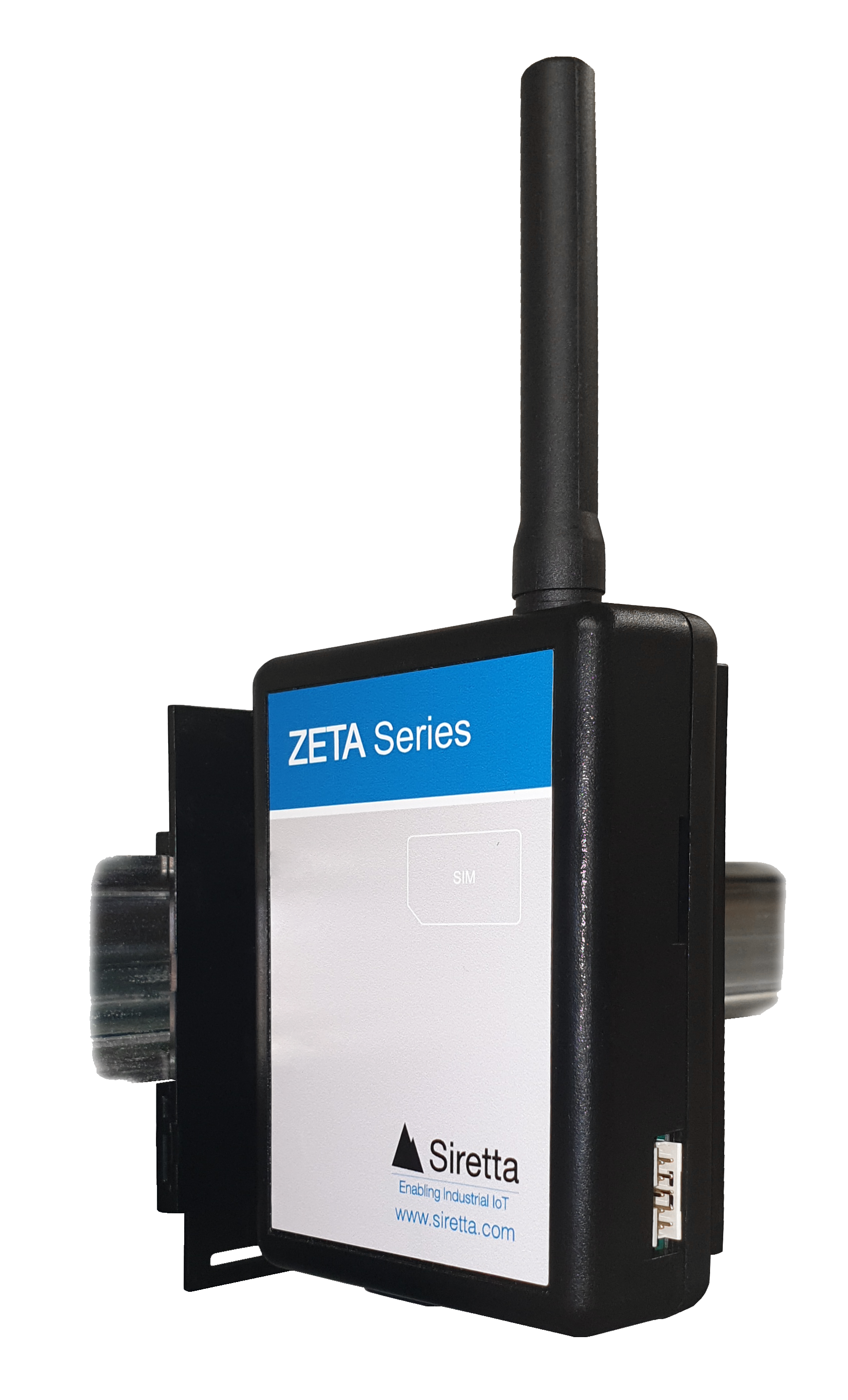 The common interfaces are designed to be compatible with industry standard interfaces and offers access to the full functionality of the modem including legacy RS232 for connection to existing equipment and a high speed USB interface for higher speed devices.
The Siretta DIN Rail accessory allows access to all of the ZETA's standard interfaces in addition to the model and serial number label on the back of the modem. In addition to the mounting screws there is also a cable tie cutout to enable cables to be secured to the DIN rail frame to ensure that the DIN rail remains firmly attached to the modem and the cables remain secured to the modem interfaces.
There are a number of different ZETA models available which offer a different set of features. Each model has a common set of interfaces with additional interfaces on the ZETA-NEP and ZETA-GEP models:
The ZETA family of modems are available to cover different regions around the world. There are global LTE solutions marked as (GL), European LTE solutions marked as (EU) and American LTE solutions marked as (USA).