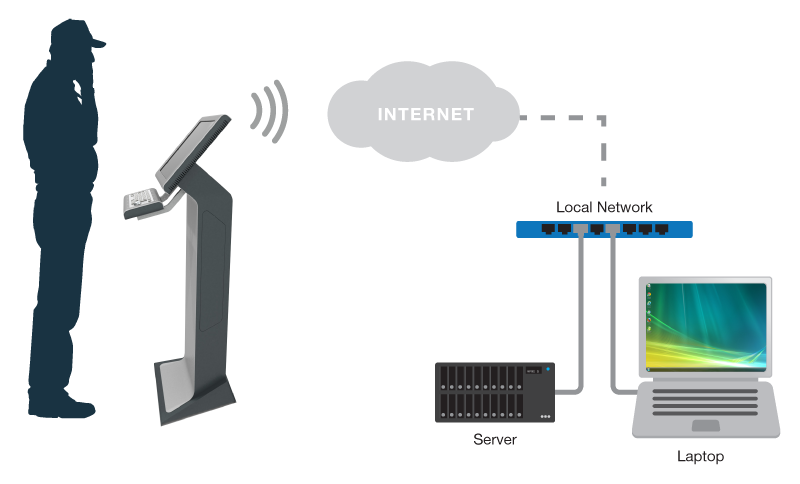 Siretta linkCONNECT and Industrial Router solutions are used to provide internet services to the retail sector and allow companies to offer additional services to those customers. This not only provides additional revenue streams through advertising channels but also additional shopping services with always-available vending and EPOS enabling solutions.
The Siretta linkCONNECT and Industrial Router solutions are used to provide fast & reliable internet services to mobile equipment and thus enable you to monitor devices in the field. The remote management of these application enabled devices, systems as well as for people to have access to reliable connectivity can provide improvements to the service offering and provide real time services to existing equipment.
Example applications:
ATM & EPOS (Electronic Point-of-Sale)
As more businesses trade with Credit and Debit card transactions it is important to be able to process digital payments in real time. EPOS solutions provide secure transactions with the controlling bank but that often require an internet connection. Where this is not available, mobile broadband can provide the necessary infrastructure to process payments.
Automatic product vending provides an easy way to promote and sell products 24/7/365 and allows for multiple products to be available in remote public and private communal areas. Often an internet connection is not available in the area and as such a mobile cellular solution is required. Internet enabling a vending machine using a cellular connection provides the head office with real time statistical information and automatically triggers re-stocking and system maintenance requirements.
The national lottery is a dynamic service which requires a very secure and reliable connection to the central lottery server. Security is important to prevent falsifying information. Service reliability is vital to ensure that tickets are processed in time for the scheduled lottery event.
Advertising revenues now make up a considerable percentage of income to businesses around the world.  These revenues are derived from a number of vertical market sectors with each requiring different messaging albeit set up and controlled from a central point. Digital signage is being used more and more in industry to deliver this to the retail sector in order to provide promotional information as well as to inform the public of important events and problems which may be affecting services in the area.
Automatic Number Plate Recognition (ANPR) systems provide fast reporting of vehicle registration numbers which can be used for vehicle and people tracking across the country as well as verification for vehicle access to secure locations. It can also be used in car parking applications to register the arrival and departure of vehicles for accurate parking charges.
Determine busy public locations where extra services and infrastructure would offer an additional benefit to the public. Improvements to existing under developed or under funded areas can make a large difference to public safety and overall performance of the common area.
Failover between WAN network 3G/UMTS and 4G/LTE
Many applications and services rely on an internet connection to provide real time up-to-the-minute information and services. As a result these system must maintain an internet connection at all times and redundancy must be built in to the application to ensure maximum reliability. As a result applications make use of 3G/UMTS and 4G/LTE mobile broadband as a secondary backup which provides fast reliable internet in the event of a wired broadband failure in the field.