The ZETA Modem Starter Kits have been developed to partner perfectly with the ZETA family of industrial IoT modem solutions. The starter kits provide all of the accessories that you need to get your modem up and running including antennas, serial cables, multi region PSU and power cables. The ZETA modems are a family of low power industrial cellular communication devices with general purpose interfaces. 
The ZETA family of modems connect equipment to the LTE Cat 4 / LTE Cat 1 / LTE Cat M / LTE Cat NBIoT networks and provide backwards compatibility to the existing 3G / UMTS and 2G / GSM cellular networks. The modems operate in a low power state which makes them ideal for use in industrial IoT applications today and for long term future developments.
The unique features of the ZETA family of modem devices are available across the entire range. The family of devices share the same set of compatible interface connectors which allows for accessories to be interchanged as required between devices.
The starter kit contains the following components with common interfaces for each ZETA model:
SMA Male Cellular Antenna
RJ12 Power Connector Cable
DB9 RS232 to USB Serial Interface Cable (1.0m)
USB Serial Interface Cable (0.5m)
Multi-region Mains PSU (12V @ 2A)
SMA Male GNSS Antenna (Option for ZETA-GEP)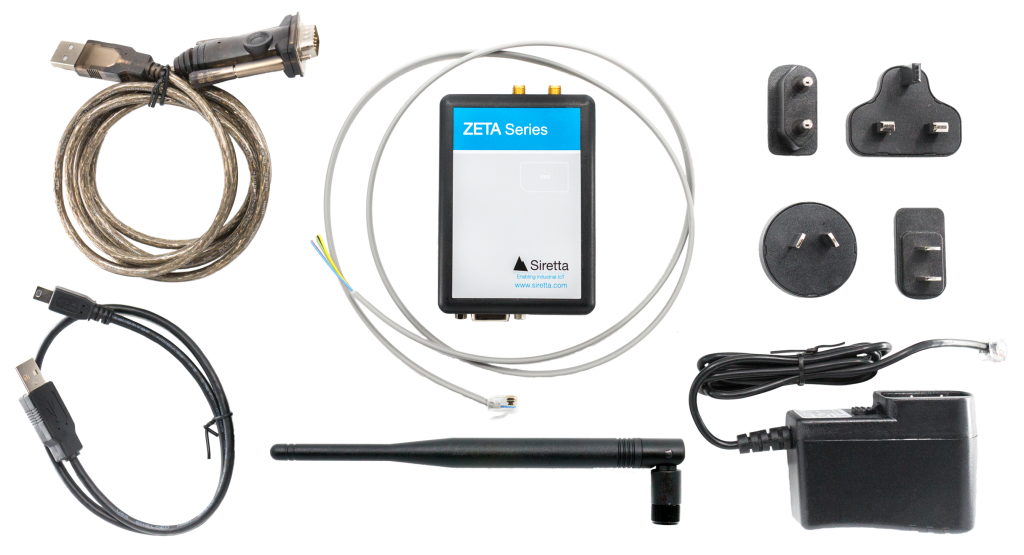 The common interfaces are designed to be compatible with industry standard interfaces and offers access to the full functionality of the modem including legacy RS232 for connection to existing equipment and a high speed USB interface for higher speed devices.
The ZETA-NEP and ZETA-GEP models also include a GPIO 10-way multi-function header which offers the following interfaces to the user:
3 x General Purpose Inputs (0V-42V tolerant)
2 x General Purpose Outputs (0V-42V @ 1A)
1 x Analogue to Digital Interface (0-42V range)
1 x RS232 debug serial port (3-wire interface)
1 x Peripheral Power Interface / Output Supply (Vcc)
There are a number of different ZETA models available which offer a different set of features. Each model has a common set of interfaces with additional interfaces on the ZETA-NEP and ZETA-GEP models:
The ZETA family of modems are available to cover different regions around the world. There are global LTE solutions marked as (GL), European LTE solutions marked as (EU) and American LTE solutions marked as (USA).
Every device in the ZETA modem family supports a powerful C development environment which can be used to develop applications directly within the modem. The programming interface reduces redundancy and lowers system component costs, allowing developers to maximise the power of their application directly on the device and eliminating the requirement for an external microcontroller. The application programming environment can provide cloud edge processing for interfacing to equipment in the field and offers the ability to make intelligent decisions without requiring a permanent online connection to a gateway server.