Siretta's QUARTZ-LITE-BACKUP 4G/LTE router is a compact, high speed industrial router designed for transferring large amounts of data via the cellular network.
The QUARTZ-LITE-BACKUP-LTE router has been designed to constantly monitor the existing router gateway (xDSL/Fibre/Leased Line/WiMAX/Cable/Mobile) for internet access or local DHCP Server/Proxy Server. If and when the internet service becomes unavailable the router automatically switches to the LTE cellular network. This provides a consistent backup internet connection for the local LAN infrastructure to allow connected equipment to continue to operate without interruption.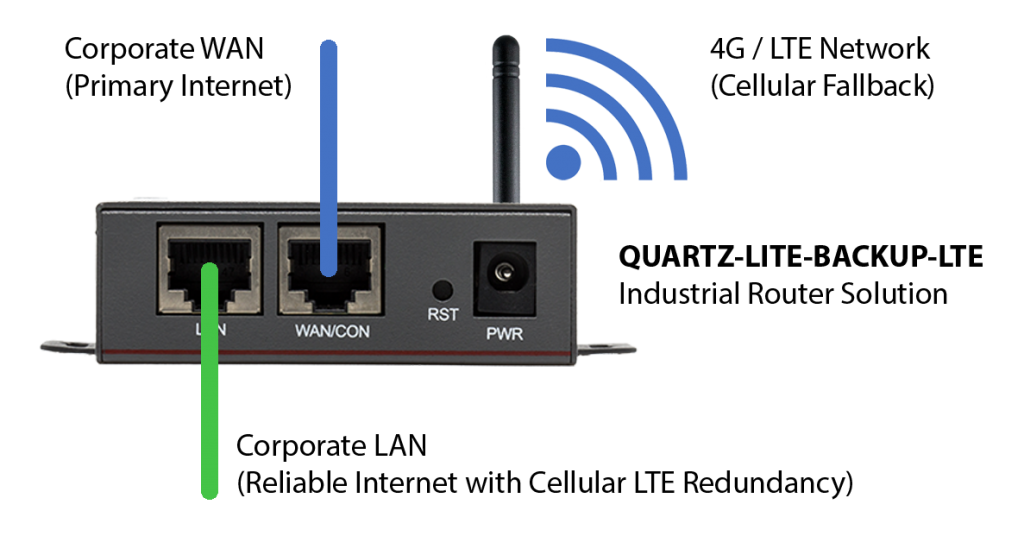 The QUARTZ-LITE-BACKUP-LTE's fast data transfer capability reaches up to 150Mbps download and up to 50Mbps upload speed which provides a very capable backup service to the existing internet service provider. The router also has fallback to 3G communication should 4G/ LTE be unavailable. The 3G network offers speeds up to 21Mbps download and 7.2Mbps upload which will continue to provide low speed access for services running on the existing network. The QUARTZ-LITE-BACKUP-LTE router is well suited for high reliability IoT/broadband applications, offering reliable, secure wireless backup connectivity.
The QUARTZ-LITE-BACKUP-LTE router has been designed to operate in industrial environments and has a robust design, in a compact metal enclosure. This makes it ideal for deployment in embedded applications where space is at a premium.
The QUARTZ-LITE-BACKUP-LTE router is equipped with a single SIM slot, single 10/100 ethernet LAN 'Network' port and a single 10/100 ethernet WAN 'Internet' port. Once connected to the local network the router will monitor the local network and provide high speed mobile broadband internet when the local service fails.