SNYPER-LTE Graphyte Testimonial
There are several features of the SNYPER-LTE Graphyte that have made it so successful in the Spanish market. The strongest market sector is utilities, where supply and distribution plant monitoring are key for operation purposes. Until the SNYPER-LTE Graphyte appeared, the typical signal and signal provider monitoring was made with mobile phone-based solutions. With the SNYPER-LTE Graphyte, there is no requirement to use a SIM, as the SNYPER will pick up signals from all "visible" base-stations in the local area. The surveying kit comes with omni and directional antennas. The Omnis help to find hotspots whilst the directional antenna can assist with antenna alignment, using the LiveSCAN function. Additionally, the SNYPER-LTE Graphyte is a reliable industrial specification product which comes in its own robust carrycase, ideal for installers and service engineers.
Our customers' locations are spread over the whole Spanish territory, where different providers have different deployments. It is crucial to be able to survey all the different providers to be able to compare and choose the best one in both signal strength terms and general availability. You can also lock-on to a single provider and even to a specific cell. In certain locations, the provider's service may vary throughout the day due to the number of subscribers or even climatic conditions.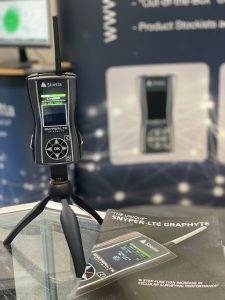 With the SNYPER-LTE Graphyte, you can pre-select the number of sequential surveys you would like to perform and the interval between them, leaving the unit in place to log and store surveys over hours or days, whilst you get on with other priorities. All surveys can be easily downloaded (.CSV & html) to a laptop. The best feature with the SNYPER-LTE Graphyte, is the rapid assistance the results provide so you can quickly identify the best mobile network operator to subscribe to.
You can carry out field evaluations to find the best position and orientation, to position your chosen antenna when you come round to installing your 2G, 3G, 4G smart industrial modem or router. Under any given conditions, you can always choose the optimum installation for your NB IoT/4G devices. Additionally, there are other interesting features we must not forget like the continuous LiveSCAN logging feature and the mapping portal: CloudSURVEY, that will help in your device's installation.
Written by Benito Pillado, A2G part of the Fiberco Group