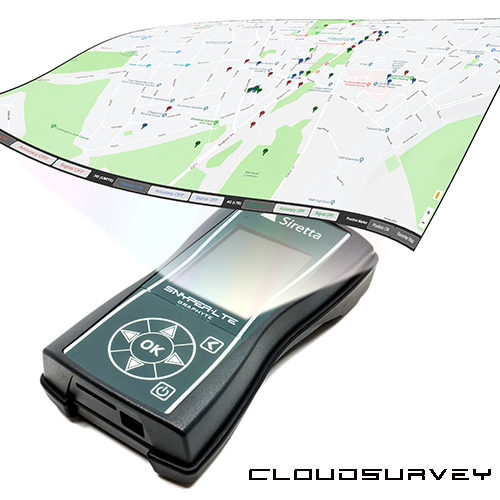 If you are an installer or maintainer of cellular communications equipment then the chances are you will be using some form of device to determine the strength, quality and reliability of cellular signals, such as one of Siretta's SNYPER signal strength analysers.
How do you manage storing of cellular surveys as they begin to build up?
If you're taking surveys on a regular basis then it won't take long to build up a catalogue of surveys which may potentially need to be stored beyond just having them on your handheld device.
The SNYPER-LTE+ Spectrum and SNYPER-LTE Graphyte do indeed have the capability of storing 50+ single cycle surveys in their memory, a single cycle being one complete cellular survey of an area, rather than a preset number of automatic repeated surveys, which is a key feature of the Graphyte models.
For more information on signal strength analysers please visit: https://www.siretta.com/SSA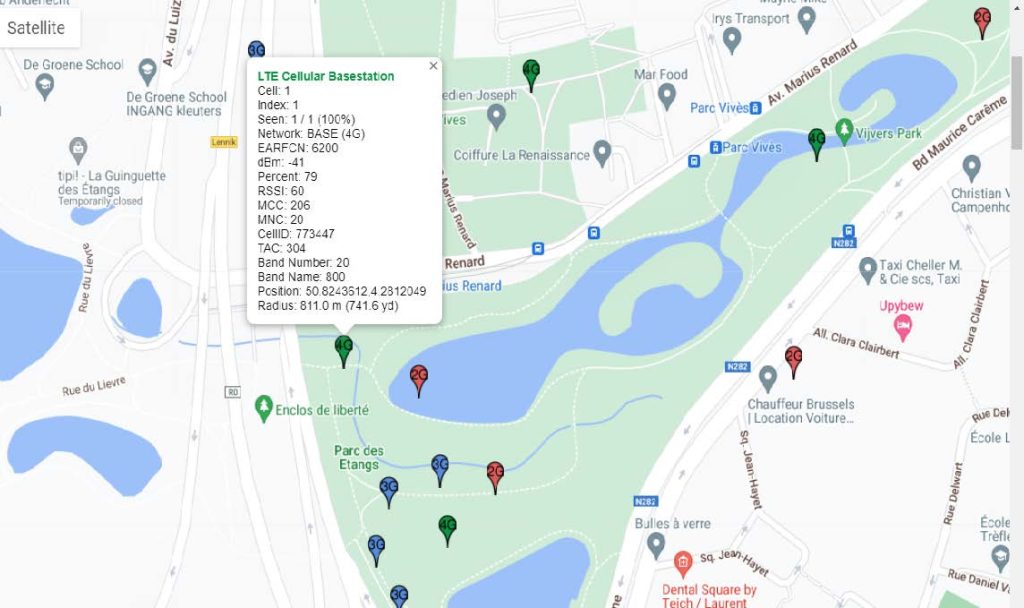 Then there is that potential requirement to take your cellular survey and be able to map each of the base-stations detected onto a display so that you can get a perspective of the cellular capability and environment around you. Wouldn't it also be great if that map could show multiple identification characteristics or parameters for each of the base-stations sprinkled across the surveyed landscape? There could also be the requirement to make regular visits to the same area, and to take a survey from the same fixed spot. In a circumstance like this it would be useful to be able to compare the new survey results against those taken some weeks or months before.
As well as seeing a digitally mapped representation of a survey, it may be useful to view charts, graphs and summary tables derived from the mass of data that a SNYPER receives meaning quick and clear decisions can be made. If these are some of the issues and challenges that you as a SNYPER user recognise then help is at hand to resolve them in the form of a storage and mapping portal, known as CloudSURVEY*.
CloudSURVEY allows the export and saving of all cellular survey results from a compatible SNYPER product to an account in the cloud. All CloudSURVEY users are required to register for an account. The account allows users to purchase tokens to a level they require. Tokens are then debited from the user's account as survey results are transformed into markers on a map, each marker representing one token. Please refer to the CloudSURVEY User Manual here: https://pages.services/pages.siretta.com/cloudsurvey-user-manual-april-2021/?ts=1684507987220
For a more more detailed explanation of how tokens are consumed.
The CloudSURVEY software has a host of features, one of which is to take the user to view approximate base-station positions on a map in order to help determine the most suitable.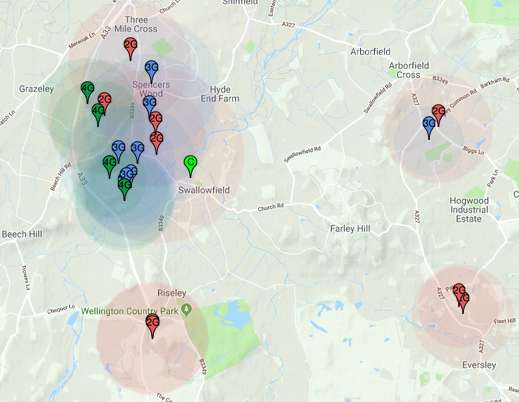 The user can apply filters to adapt the view of the base-station markers and other features, such as signal heat maps. The portal also has the ability to determine where your base-stations are located in relation to where your survey was performed.
The CloudSURVEY portal simultaneously calculates the entire available network resources in the area where the survey was performed and displays the relative dominance of each mobile network operator. This allows the user to make informed decisions about the optimal cellular network, taking into consideration network technology, network reliability, average signal strength, base-station position and network density.
CloudSURVEY's key features are to provide the user with:
• Storage and mapping of survey results in a central cloud location when used alongside compatible Siretta SNYPERs.
• Base-station markers on a map, that when "hovered" over display detailed cell parameters
• A means of freeing up space on the SNYPER to allow further surveys to be saved on the device.
• Time saving when it comes to storing, referencing and making quick decisions about a selected MNO(Mobile Network Operator), or the best or most suitable MNO to serve a particular area.
• A status of the CloudSURVEY tokens still to be used. Tokens are purchased by users and consumed in return for the maps and base-station marker displays.
• Recall of specific location survey results from the CloudSURVEY filing system and be able to compare against new results from the same location.
• Labelling and categorization of survey results
• Dynamic views of individual network technologies on a single map
• Dynamic views of network signal strength heat maps
• Network dominance for each saved survey
CloudSURVEY Compatible Models:
SNYPER-LTE+ (EU) (European 2G/3G/4G Networks)
SNYPER-LTE+ (USA) (USA 3G/4G Networks)
SNYPER-LTE+ Spectrum (EU) (European 2G/3G/4G Networks)
SNYPER-LTE Graphyte (EU) (European 2G/3G/4G Networks)
SNYPER-LTE Graphyte (USA) (USA 3G/4G Networks)
SNYPER-LTEM (GL)* (Global LTE CAT M/NB-IoT/2G Networks)
V2 Models:
SNYPER-LTE+ (EU) V2 (European 2G/3G/4G Networks)
SNYPER-LTE+ (USA) V2 (USA 3G/4G Networks)
SNYPER-LTE+ Spectrum (EU) V2 (European 2G/3G/4G Networks)
SNYPER-LTE+ Spectrum (AP) V2 (Asia-Pacific 3G/4G Networks)
SNYPER-LTE Graphyte (EU) V2 (European 2G/3G/4G Networks)
SNYPER-LTE Graphyte (USA) V2 (USA 3G/4G Networks)
SNYPER-LTE Graphyte (AP) V2 (Asia-Pacific 3G/4G Networks)
Please visit: https://www.siretta.com/csmp
*Note: SNYPER-LTEM (GL) is compatible for storing all 2G, LTE Cat M and NB-IoT surveys on the  CloudSURVEY portal, however, for mapping purposes, only the 2G survey results are able to provide cell references on the map. In time maps will develop to include LTE CAT M and NB-IoT references.
If you would like to know more about CloudSURVEY, why not view our YouTube informational video by visiting: https://www.youtube.com/channel/UC6UgjyTjIb-Mn8bxnCvF1sw
*CloudSURVEY is a subscription based service.
Please visit: https://www.cloud-survey.co.uk/