We are proud to announce a strategic collaboration that promises to elevate the standards of connectivity and innovation in the world of our Industrial Cellular routers. Siretta is proud to work with Siemens providing a router solution for their power distribution metering project.
At Siretta, our expertise in solutions in Industrial IoT leveraging cellular technology has been at the forefront of our mission. We believe that by working with a global leader like Siemens, we can bring value for connectivity solutions that will shift the way businesses and industries operate.
Peter Rees Product Manager for High Accuracy Metering within Siemens comments:
"Siretta were both proactive and responsive to implement the approval enhancements we required for our strategic project. This provided us with a cost effective solution"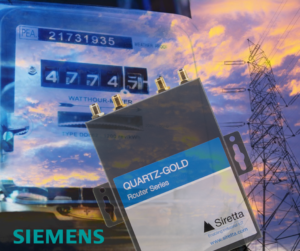 Siemens selected the QUARTZ-GOLD-LTE product with optional RS485 interface however, being installed in substations, required the EMC approvals to meet Heavy Industrial Requirements. Siretta worked with their test and approval partners to approve the product to meet EN61000-6-2 within the requirements of the client timescales.
With RS485 serial connectivity and 2 ethernet ports the QUARTZ-GOLD-LTE is not only small in size but also extremely versatile and powerful.
The cellular router project with Siemens is a testament to our shared vision of connectivity that empowers industries and businesses. We are excited to embark on this journey and looking forward in supporting Siemens in further projects.
To find out more about Siretta's Industrial Router Range, click here.