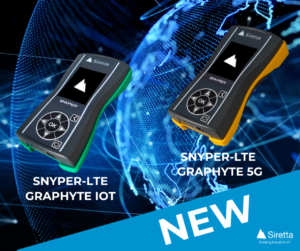 With a Siretta SNYPER, you can quickly and easily measure cellular signal strength, quality, and other network parameters, helping you to identify and troubleshoot issues as they arise.
Based on the successful Graphyte platform.
The SNYPER 5G Graphyte and IoT Graphyte has vastly improved processor, graphics, memory, display and many more!
To find out more about the SNYPER-5G Graphyte click here. The SNYPER-IOT Graphyte has not been officially launched as yet, but to keep up to date with the launch and to register your interest, please click here.