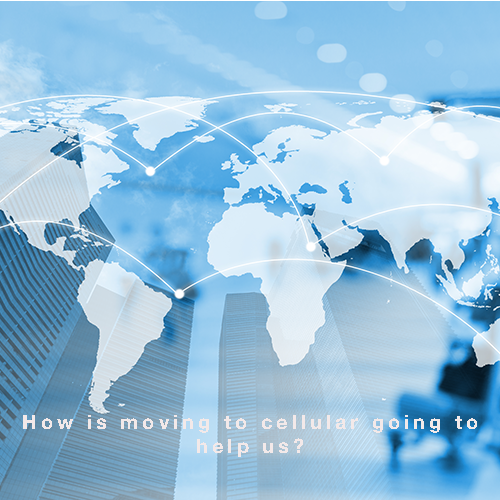 How is moving to cellular going to help us?
A typical story of the discussions that play out in order to open up a new world of opportunity enabled through industrial IoT.
Robert is a design engineer in an organisation looking towards the future but struggling for inspiration. The organisation has held a good position in its marketplace, manufacturing and supplying vending machines to garage forecourts.
The vending machines are typical of the types you see for checking and inflating vehicle tyres. Robert has long been the champion of new solutions, but doesn't always feel he gets a fair hearing and as a result new ideas, and proposals are often rejected. Despite this, Robert enjoys his job and has a good rapport with the sales, service and installation teams.
One day Robert is in his office looking through a list of issues with customers when his phone rings. It his CEO, Brett. Robert is summoned to Brett's office and begins to get a rundown of the issues that face the company with regard to it lack-lustre and ageing product range. The general summary is that:
• Revenues are ok but could be a lot better.
• They lack good business intelligence information.
• Competition are offering newer machines.
• Costs are making the company less competitive as their machines are of an older design, require expensive cable laying to connect equipment, and as a result profits are suffering.
• Service staff are busy but are being pulled to jobs in an inefficient manner, as maintenance is becoming more and more reactive, rather than pro-active, and as a result service response times are becoming unacceptable.
• The company's financial position means it is struggling to recruit the personnel they need.
• When added together, all of this is limiting the growth of the company.
Robert welcomes the opportunity for tackling the problems and diplomatically explains that he has tried to communicate an urgency and a commitment to moving the product range on. Brett is interested to hear Robert's ideas. Robert states that he feels the product and service issues could be addressed by incorporating cellular technology into their product specifications.
"How is moving to cellular, going to help us, it's just going to add more cost?" says an exasperated Brett. Robert answers by painting a picture to Brett of what life would look like in a cellular world.
Robert's presentation is passionate and enthusiastic outlining the benefits there would be in connecting their equipment to the cellular network. Imagine a world in which we could get at any information we wanted from the machines, without even visiting them, says Robert. We can sit at our desks and get the data we need on how our machines are performing, whether they need servicing, peak times of usage, what level of business they have taken in a particular day, week, month etc. All of this and more would be visible on our PC's, for whoever needed to see it within the Company.
In addition, we would be able to:
• Tell whether the cash box is secure, which we can't do at present without a site visit.
• Run diagnostics, rectify faults, quickly and easily.
• Better prepare for essential site visits.
• Avoid planned maintenance at peak periods and carry this out at quieter times. This would give the appearance of our equipment being "in service" rather than "out of service".
• Add advertising displays to rent out and bring in further revenue.
• Cut down service travel/time
• Re-deploy resources, bolstering areas such as R&D, sales, marketing, giving scale and structure to add new products and services, and widen our customer base.
• Get better control of our costs, because of the service efficiency
• Enhance the Company's reputation, as we become slicker
• Focus on productive activity and grow the Company
"This all sounds very good" says Brett, "but how long is it going to take to re-design our product, whilst we run up further costs before seeing any benefit?"
"Shorter than you think" says Robert. "We don't need to change our equipment, we just need to add a communications device, called a modem, to our existing equipment, and then take the decision as to whether we develop our own programming code, or buy a solution where the programming is already done for us, so all we have to do is configure settings and profiles via a management portal".
"Well you say, just add it to our equipment, but how"?, says Brett
"Our equipment has a serial communications port, and so do the modem solutions that I have looked at in the past", says Robert. "We connect the serial ports together, and then data from the equipment has the potential to be sent over the cellular network in seconds".
"Even so", responds Brett, "we have hundreds of machines out there, so this will cost a small fortune".
Robert is not to be deterred and counters by saying," By taking a phased approach and deploying cost effective industrial modem solutions, we will quickly gain an idea of the amount of productive time we are spending on machines with cellular vs. those without".
"Ok", says Brett, "sounds as though I need to give you an opportunity to persuade me. Bring me your plans for a phased approach, and if it makes sense, we'll give it a trial, and then implement roll out accordingly.
If like Brett, you would like to consider cellular communications for your solutions, then take a look at the links below to help you find a way to a connected world:
• Adding a low power industrial modem to remote equipment
https://www.siretta.com/products/industrial-modems/
• Rolling out deployments of managed modem solutions with cloud access
https://www.siretta.com/products/sirettalink-portal/